Temple Augmentation is used to treat the area the side of the face, just beside the eye, superior to the lateral cheek.
---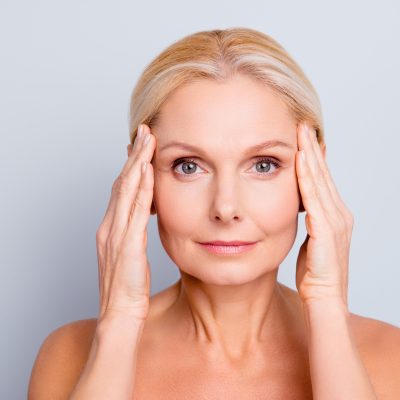 The temple meets right at the tail of the eyebrow. During the aging process, we lose significant volume in this area. Structural support and loss in this area lead to increased lines, wrinkles, and deflation in the upper third of the face. This volume loss causes the eyes to "droop," as well as creates the eyebags to deepen around the orbit.
Patients who take good care of themselves, exercise frequently, and eat well, tend to have more likely of a chance of sunken temples. Many patients genetically have sunken temples as well throughout their life and are good candidates for the procedure.
As the hollowing progresses over time, the appearance or shape of the head can appear "peanut-like." This can make the cheeks also appear very narrow and expedite the aging process. To correct this, we add volume to the temples to balance out the proportions of the face.
Temple Filler Treatment
Julie uses HA dermal filler injections to volumize and restore the temple area for her patients. Treatment of the temple can be done with a needle or cannula technique. This is dependent on the client's needs and desires. Julie will review what the best treatment plan is for each patient. She will also go through risks and safety measures before the procedure. With a needle, the procedure typically is done with only one injection point, at a maximum of two. With a cannula, it is fanned in a systematic way to blend the temple with the upper forehead line depending on how deep the temple presents.
Post Treatment
Patients typically leave with no bruising or swelling in this area. Side effects could include a mild headache post-procedure as well as jaw pain. This is normal and will resolve over the next few days. Patients will receive a sheet with instructions post-treatment in regards to aftercare as well as a contact number if concerns arise.
Proven Results
---
Before & After
Drag the slider bar to compare before (left) and after (right).